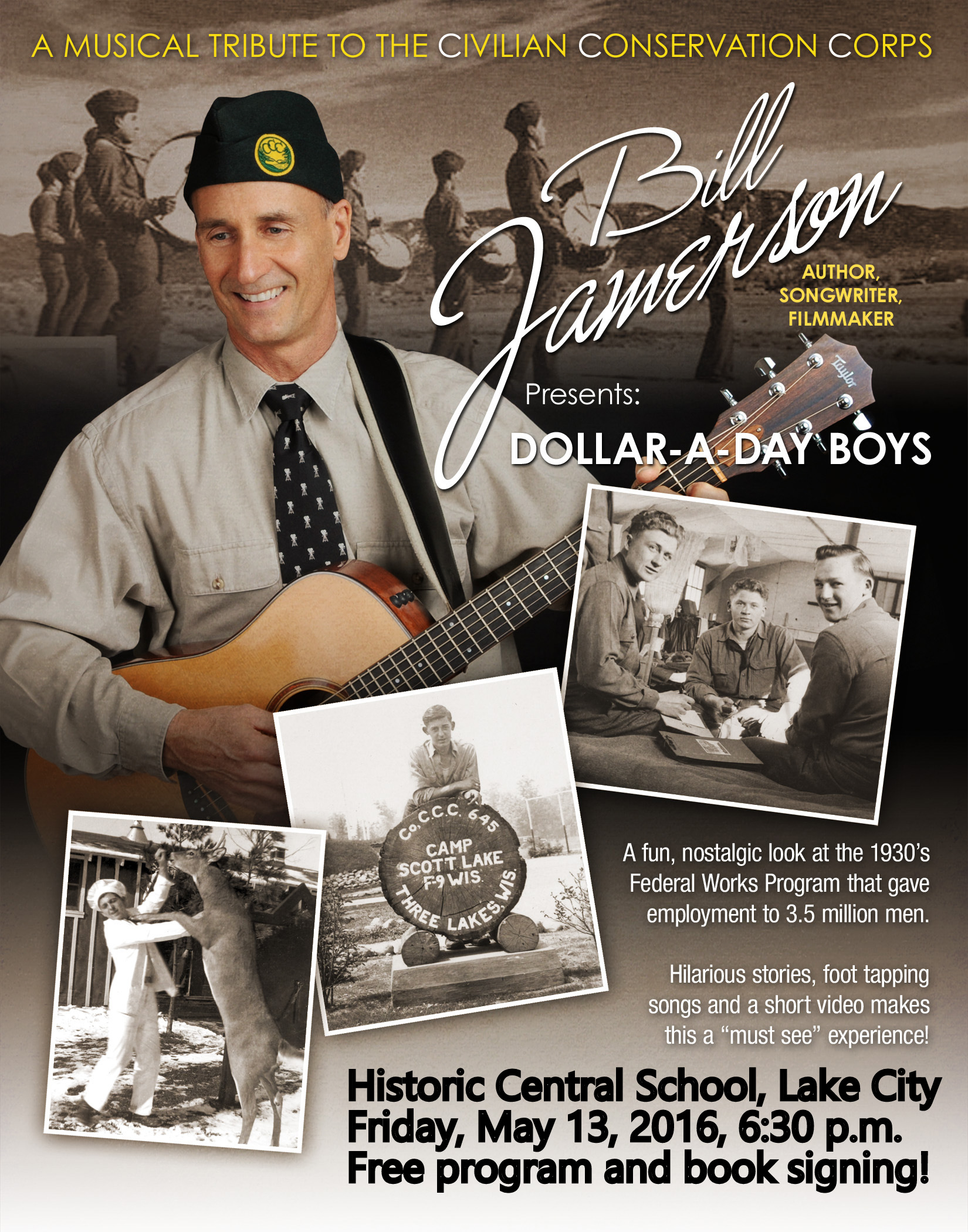 "Dollar-a-Day Boys" 1930s Musical Tribute at Central School May 13
Imagine you're 17 years old trying to survive during the Great Depression. Food is scarce, jobs are non-existent and some people are turning to petty crime to eke out a living. One day you hear about the Civilian Conservation Corps (CCC), a new job program created by the federal government that pays a dollar a day.
You soon find yourself in rural Iowa, spending long days assisting farmers with soil conservation and helping develop places like Black Hawk State Park at Lake View. Over the next year, you put on 20 pounds, develop good work habits, gain confidence and make life-long friends. The job skills you learned help you find a job when you leave camp. Your experience in the CCC turns out to be the most important event in your life.
Historian, author and songwriter Bill Jamerson of Michigan will share these stories and more about the CCC of the 1930s at Historic Central School at 211 South Center St. in Lake City on Friday, May 13, 2016, at 6:30 p.m. "Dollar-A-Day Boys" is a musical tribute to the program that recruited more than 2.5 million young men and put them to work from planting trees to helping develop America's growing network of state parks.
This free program is open to the public, and refreshments will be served.
Since 1992, Bill Jamerson has researched the CCC. He produced a documentary for Michigan PBS, recorded a CD of songs, and wrote a historical novel. He presents his popular "Dollar-A-Day Boys" tribute across the Midwest. Dressed in uniform, Jamerson shares stories about the CCC, reads excerpts from his book, and sings original songs with his guitar. It's a nostalgic program with songs, much laughter and many heartfelt stories.
During the program, Jamerson will talk about many of the interesting CCC enrollees he has met through the years. Some of the songs Jamerson performs with his guitar include Franklin D., written by an appreciative enrollee. Chowtime is a fun look at the camp food, City Slicker, is about the mischief the men found in the woods, and Tree Plantin', Fire Fightin' Blues tells the hardships of work. The folk songs range from heartwarming ballads to foot-stomping jigs.
People are encouraged to bring CCC photos or memorabilia to the program. A question-and-answer period and book signing for Jamerson's book, "Big Shoulders", a historical novel that follows a year in the life of a 17-year-old from Detroit who enlisted in the CCC in 1937, will follow the presentation.
For more information, contact Central School at 712-464-8639.
Passing the legacy to future generations
The CCC was a federal works program created by President Franklin Roosevelt in the heart of The Great Depression. During its nine year run beginning in 1933, more than 49,000 men served in Iowa. The men were 17 to 25 years of age. The camps were run by the U.S. Army, with an average of 29 camps in operation in Iowa each year.
More than $48 million was spent in Iowa operating the CCC camps during their nine-year existence. Enrollees were paid $1 a day with $25 sent home to their families each month. The money sent home provided relief for their families who were desperate for food and basic necessities.
The CCC worked on hundreds of Iowa farms assisting with soil-erosion-control projects such as building earthen dams, terracing hills, digging ponds, repairing gullies and planting trees for wind breaks. The CCC men also constructed more than 1,000 miles of roads, erected hundreds of miles of telephone poles and assisted in emergencies, from forest fires to floods. Their most visible work is seen in many state parks, including Black Hawk, Ledges, Backbone, Lake Wapello, Clear Lake, Stone, Lake McBride and Lake Ahquabi.
The men came into nearby towns on weekends and patronized stores, movie theaters, billiard rooms, dance halls, churches and restaurants. Many enrollees met their wives while in camp. The enrollees spent approximately $5,000 a month in nearby communities, which was a boast to the local economy during the depths of The Great Depression, according to Jamerson, who produced the film, Camp Forgotten-The CCC in Michigan, which aired on 58 PBS stations in 1994. To learn more, visit  www.billjamerson.com.